Are psychic abilities real? How can psychics communicate with invisible sources of information? What do psychics know? Since 2008, I have interviewed 36 psychics, intuitives, readers, healers and energy workers about their lives and their work. Their answers are fascinating and reveal a universe of energetic connections.
When I talk with the psychics, I ask what they tap into and how they know the information is real. I ask how they feel about their abilities, and about the pros and cons of being psychic. We discuss how they discovered that they were psychic and whether this talent runs in their family. We talk about life, death, ghosts, spirits, and the unseen support system in which we all live.
Through My Psychic Search website, I am sharing everything you ever wanted to know about psychics. The blog pages have information on psychic ability, along with tips for finding reliable readers. I share the psychics' views on life, death, and the Universe. In addition, I write about my personal journey as I explore intuition and book publishing.
In 2012, much of this work was published in the book My Psychic Search: discovering what psychics do, what psychics know, and how they can help us improve our lives. This book answers questions about life, love, and how the Universe works. It is the book which I have always wanted to read!
My Psychic Search book explains what life is like for people with psychic abilities. Written in a "Question and Answer" format, the book explains how the psychics figured out that they were psychic, and how psychic abilities affect dating, marriage, parenting, and employment. The section on Readings shows people how to find the right psychic for a reading, how to get the best possible reading, and what to do with the information they hear at a reading. The psychics discuss why they use tools (such as Tarot cards) and explain exactly what happens when they make an energetic connection. The section on The Wheel of Incarnation talks about life, death, what people do between lives, why people are here on Earth, and life lessons. The Section on The Future provides the psychics' opinions on the period of awakening which opened in 2012.
You can find out more about
My Psychic Search book
and order your copy
here
.
My Psychic Search is an on-going project to bridge the gaps between psychics, clients, and a curious audience. If you would like to be interviewed for this project, or if you have an interesting story to share about how a psychic reading changed your life, please contact me, Gail Kushner, at gail@MyPsychicSearch.com.

My Psychic Search can be your psychic search!
Radio Interviews


Now Available! "Psychics Speak: The Individual Interviews"

Read, in their own words, the life stories of people with psychic ability. Find out how people discovered they were psychic, what life is like as a psychic, and how people use their gifts to help others. "Psychics Speak" presents each psychic's individual story in wonderful detail.
The first 16 interviews are now available as short Kindle e-books. More information is available on the new "Psychics Speak" page of this website.
Enjoy!

Gail Kushner and her book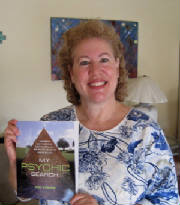 New Lower Price! Only $19.95!

Order your copy of My Psychic Search book! Check out the details and view the Table of Contents, by clicking here.

Psychic Fairs are held in Tucson every month. Check here to see the date for the next fair!
Check out the Blog Index! The date and topic for each entry is listed, making it easy to find the information you seek. You don't have to be Psychic to find your answers!
Thanks to everyone who is participating in this project!
I am also a working Tucson artist. Click here to view "Wild Girls!" at my Kushner's Kreations website!